What is the CY24 lock pick 2 in 1 car decoder tool?
A CY24 lock pick or a lishi lock pick is simply a tool that auto locksmiths use to pick and decode car doors and trunk locks.
Because it makes the task simple enough to be completed in 3 minutes, it is also the perfect tool for expert locksmiths to use.
What is a lock decoder?
Decoding a car lock be it a CY24 lock or a lishi lock pick is just the process of manipulating, disassembling, measuring, and observing keys or lock components in order to ascertain the precise location of components in a CY24 lock or Lishi lock or any other kind of lock.
Although it doesn't always unlock the lock, decoding gives you the knowledge you need to make a functional key.
So, a lock decoder as the name implies helps to unlock or dissemble a lock of any car, home etc.
Specifications of the Lishi CY24 lock Pick Tool :
Material: Metal piece
Function: special unlocking
Packaging: Single-piece
Product weight  0.1KG
What is a Lishi pick?
A CY24 lock pick tool otherwise known known as a "Lishi Two-In-One Tool" can be used to unlock locked cars or create replacement keys quickly.
Each tool is placed inside a vehicle lock, and then the lock is picked until the wafers are trapped.
The cuts for a replacement key can then be determined by reading the wafer depth.
Manufacturers and models list (for guidance only)
2011 – 2014 Chrysler 200
1999 – 2016 Chrysler 300, 300C, 300M
2007 – 2009 Chrysler Aspen
1995 – 2000 Chrysler Cirus
1994 – 2004 Chrysler Concorde
1999 – 2001 Chrysler LHS
1994 – 2001 Chrysler New Yorker
2004 – 2008 Chrysler Pacifica
2017 – 2018 Chrysler Pacifica
2001 – 2002 Chrysler Prowler
2001 – 2011 Chrysler PT Cruiser
1996 – 2011 Chrysler Sebring Convertible
2001 – 2011 Chrysler Sebring Sedan
1998 – 2016 Chrysler Town & Country
2001 – 2003 Chrysler Voyager
2008 – 2014 Dodge Avenger
2007 – 2012 Dodge Caliber
2008 – 2017 Dodge Challenger
2005 – 2017 Dodge Charger
2013 – 2017 Dodge Dart
1994 – 2004 Dodge Intrepid
2009 – 2014 Dodge Journey
2005 – 2009 Dodge Magnum
1994 – 2005 Dodge Neon
2007 – 2012 Dodge Nitro
1994 – 1995 Dodge Spirit
1995 – 2006 Dodge Stratus Sedan
1994 – 2006 Dodge Viper
2013 – 2016 Dodge Viper
1996 – 2017 Dodge Caravan
1996 – 2017 Dodge Grand Caravan
2001 – 2012 Dodge Dakota
1998 – 2015 Dodge Durango
1994 – 2008 Dodge Pickup
2002 – 2017 Dodge Ram
1994 – 2004 Dodge Van (Full Size)
1994 – 1998 Dodge Eagle Vision
2004 – 2004 Freightliner Class 6, Class 7
1994 – 2017 Jeep Cherokee
2006 – 2010 Jeep Commander
2007 – 2017 Jeep Compass
1994 – 2017 Jeep Grand Cherokee
2002 – 2013 Jeep Liberty
2007 – 2017 Jeep Patriot
1998 – 2017 Jeep Wrangler
2006 – 2010 Mitsubishi Raider
1994 – 1995 Plymouth Acclaim
1996 – 2010 Plymouth Breez
1994 – 1995 Plymouth Voyager
1994 – 2004 Plymouth Grand Voyager
1994 – 2001 Plymouth Neon
1998 – 2002 Plymouth Prowler
2008 – 2009 Sterling Bullet
2009 – 2015 Volkswagen Routan
Package includes:
1 x CY24 2 in 1 Car Lock Pick Opener
What is the best tool to pick a lock?
Typically, all you'll need to pick a lock is a tension wrench and some picks, which are long, thin metal pieces with curved ends that are different shapes for different types of locks.
In a pinch, paperclips can be used as picks, and a flathead screwdriver or any other tool used to create tension can be used as a tension wrench.
How is a lock pick set used?
Technique for Picking Locks
Place the tension wrench in the keyhole's bottom and apply light pressure.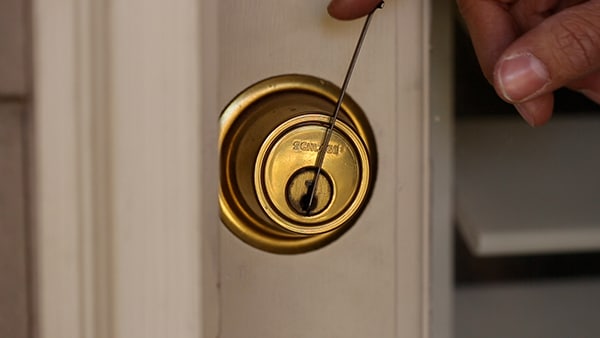 The tension wrench is essential to successfully picking a lock (no pun intended).
Because of video games, people mistakenly believe that the pick is what is lifting the key pins to align with the shear line.
The tension wrench is essential because you must tighten the plug as you lift the pin sets with your pick.
If the plug is being torqued properly, it will begin to rotate a little after the driver pin crosses the shear line.
When you remove your pick, the driver pin will catch the edge of the plug and remain above the shear line while the key pin will fall back down.
Here is a picture showing how it appears: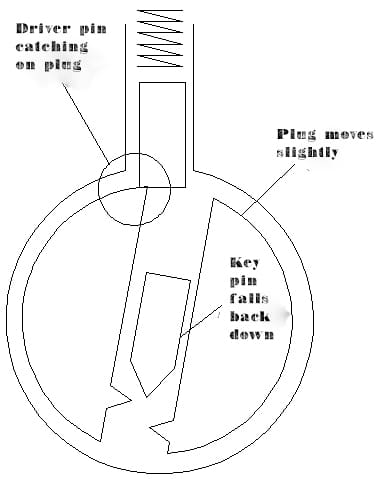 As long as any remaining driver pins are not clear of the shear line, you must continue lifting pins with your pick and applying pressure with your tension wrench.
So grab your tension wrench and insert it into the keyhole's bottom.
Use gentle pressure to spin the key in the same direction that you would if you had one.
Make it really slight.
Too much pressure will just result in the driver pins becoming stuck below the shear line.
You must have enough give to allow the driver pins to rise over the shear line while also having enough torque such that when they begin to descend, a drive pin edge snags the plug as it starts to rotate.
How much is too much pressure?
If your tension wrench is bending a lot, then you're probably applying too much pressure.
So lean on the side of applying less pressure than more.
2. Insert the pick at the top of the lock.
Make your choice. The three-ridged Bogota rake is what I favor. This one has easily opened every lock I've used it on.
All the way to the rear, slide the rake.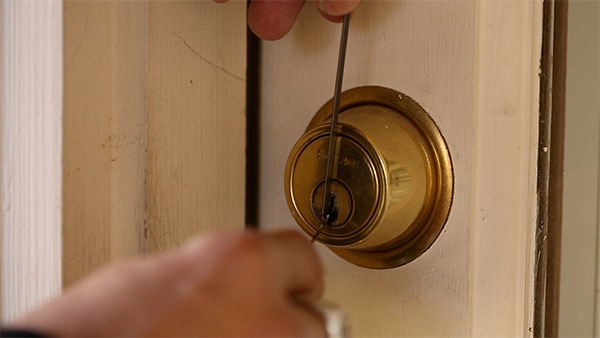 3. Rub Your Pick Back and Forth in the Key Hole While Applying Light
Maintain the light pressure you've been using on the tension wrench. I use my left hand for that.
Use your right hand to rake or scrape the pick into the plug. Lift up at the same time you bring the pick back to exert pressure on the pins. It resembles this action in some ways: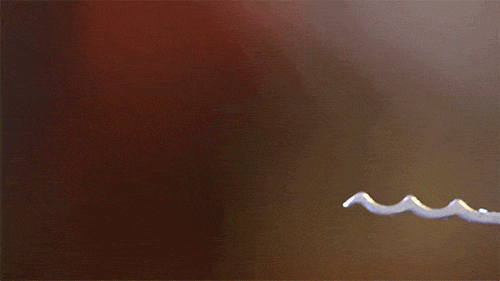 4. Continue until every pin is in place.
Till all of the pins are set, keep turning your wrench and cleaning the pins. As you approach the final one or two pins that need to set, you might need to use additional torque and pressure while picking up the pins.
If you're not moving forward, you probably gave the wrench too much torque.
Remain calm, let the pins reset, and then try again, being careful not to apply too much pressure.
I'm done now! Really. All there is to it is that. With this scrubbing technique, you can successfully pick the majority of pin and tumbler locks.
By picking each pin set individually, you can come across locks that need a little bit more dexterity.
You might need to become more methodical while picking these increasingly difficult locks by first choosing the pin stack that resists the most, then repeating the process until all the pins are successfully selected.
Frequently Asked Questions
What can I use to pick a lock?
The best option for you is a lock picking set that comprises rakes and a tension wrench.
The SEREPick set is my fave. In a pinch, a paper clip, bobby pin, or even windshield wiper blades may be used to create lock images.
In my experience, using a paperclip to pick a lock is far more challenging due to the paperclips' propensity to snap inside the lock.
Can a credit card be used to pick a lock?
Not a tumbler lock, however, certain internal door locks can be jimmed open by sliding a credit card between the lock and the door.
Is picking locks legal?
Depending on the nation or state you reside in. In most cases, you're fine as long as you're only picking a lock and have no malicious intent.
While Owning a set of lock picks might be considered prima facie proof of criminal intent in several places.
Your best bet is a lock picking set that includes a tension wrench a set of rakes.
My favorite is the set from SEREPick. In a pinch, you could fashion some lock pics with a paper clip, bobby pin, or even windshielder wiper blades.
In my experience, picking a lock with a paperclip is much more difficult because the paper clips have a tendency to break in the lock.
Before purchasing a lock pick set, be sure to check your local laws.
Solemn warning |Disclaimer about the CY24 lock pick|
On this website, Lishi is the sole provider of all Lishi tools.
Support online authenticity checks; offer a full refund if fake goods are discovered.
CY24 lock pick reviews
Took about two minutes to unlock the first time using it
about a year ago
Joshua
This is a much-appreciated item for Nissan dealerships and will ultimately save money on locksmith costs.
However, proficiency will require practice.
Kris
If this store had offered various lock pick equipment made for different car models, its overall sales would have gone up. because ordering others is made simple.
Sam
For customers who need keys made for several vehicles, that would save a lot of time.
Also available for orders are the required key blanks.
Allternatively, links to websites that focus on key blanks for the particular pick tool.
You like this post,share:)